Posted by justin on 29 Oct 2009 at 12:30 pm | Tagged as: acquisitions, adventure day, art paparazzi, possibilities, public art, renegade performances, rock!, silliness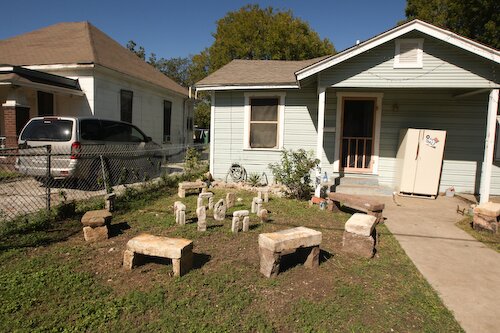 StoneHenge in San Antonio?  When I stopped to take the photograph, the homeowner came to the screen door and told me he was a carpenter. He said,  "if anybody needed any work done, to tell them to stop on by." The address is 327 Lone Star, San Antonio, TX 78204.  Feel free to check it out for yourself.
9 Responses to "aligned with the midsummer sunrise?"



Do you mean its an unconscious choice?




:: |




:: | ::




:: | ::

| ::::::::::::::




:: | ::

| ::::::::::::::

| :::::::




Does he do all of Spinal Tap's stage props?

on 04 Nov 2009 at 4:17 pm #

Gary Garver




Lone Star St. rules.

on 12 Nov 2009 at 3:02 pm #

Cathy




On the one hand there is the path from the signs to the Signifier (or from the arts to the Artisan). In this branch, the seeker begins by purifying the lower self of every corrupting influence that stands in the way of recognizing all of creation as the work of God, as God's active Self-disclosure or theophany




Percocet aspirin….

Buy percocet online. Percocet without a prescription cheap. Percocet. Cheap percocet. Compare darvocet and percocet. How long is percocet in your system….